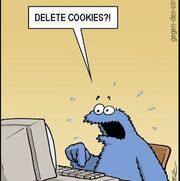 Delete these cookie monsters is a respected youtuber and part of the Powerhouse of Entertainment. He mainly tries to get rid of the scum of YouTube. he has an assistant, which is Isaac TV. He once owned a lot of jails, with his main jail being in Wayne County. Those jails were taken down along with his old account. He recently moved to a new account, but any way you slice it, he is still Delete These Cookie Monsters internally. He is not only on YouTube, but also on DailyMotion, rare for a POE member. He's lucky he has the Dailymotion account, since his YouTube account was taken down for some reason, possibly because some idiot named "Tommy RIPton is Back" hacked his account and used it for spam. If anyone has a phone number so that he can get past the verification, send the post to
http://ytrojanpoe.proboards.com/thread/11/phone-number-verify-account
and, once the code is sent, send the verification code.
Incomplete List of Former Jails (In alphabetical order)
Edit
Chariton County: One of the many "Bad User" jails. This doesn't have many prisoners, but oh, boy, are these guys doozies!

Franklin County: Videos that are gross (especially HowToBasic's videos, which we don't know why get so many views. Note from Luke2505: THE FOOD IS OFF DATE!! Children in Africa will probably DIE from that food!

Jackson County: Another one of the many "Bad User" jails by him, and the largest while we're at it!

Miami County: Stolen videos. If you see a video in that jail, report it to the original uploader so that they can take it down for Copyright infringement.

Wayne County: Every video in jail. Ever.
Incomplete list of Current Jails (In no particular order)
Edit
Wayne County: A revival of the original Wayne County, showcasing all arrested videos since the return to YouTube.

Milan Province: Fake "Full Movie" Videos (Often fake full movie videos putting stupid links to potentially malicious sites.)

San Andreas County: Police Impersonators (Especially the UTTP and VGCP).

Rome Province: Bad Rants. Seriously. These should stop.

Boone County: Grounded videos, which are like porn in that you know them when you see them.
Ad blocker interference detected!
Wikia is a free-to-use site that makes money from advertising. We have a modified experience for viewers using ad blockers

Wikia is not accessible if you've made further modifications. Remove the custom ad blocker rule(s) and the page will load as expected.