Duncan Burden (also known as Duncan Pictures, Duncan Burden Reloaded POE JEDI and formerly, Duncan Burden POE JEDI) is a respected YouTube user and part of the Powerhouse of Entertainment. He makes motion pictures using GoAnimate (or other softwares) (such as Caillou and
Mr. Cake
Gets Grounded), livestreams, and logos..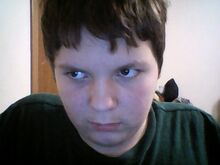 His sweetheart is fellow POE member, Pinkie Pie.
On March 25, 2016, his account got terminated and was replaced by a new account, "Duncan Burden Reloaded POE JEDI UTTP AVGCP.
Ad blocker interference detected!
Wikia is a free-to-use site that makes money from advertising. We have a modified experience for viewers using ad blockers

Wikia is not accessible if you've made further modifications. Remove the custom ad blocker rule(s) and the page will load as expected.