The Powerhouse of Entertainment, Inc. (POE) is a YouTube group created by Lamont Meeks, Jerome Harrison, Jr., and Daniel Lyons in December 2014 to create videos and entertain audiences from around the globe. Most of the members are American males, however, we do have some females and foreign people so don't feel left about about that.
Members of the POE
Edit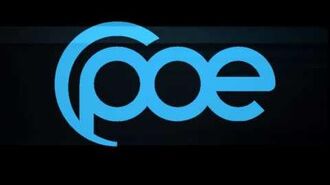 SLN! Media Group (the 1st leader)
The Harrison Channel (the 2nd leader)
DLE Network (the 3rd leader)
aaron99swell
CineToon
RatchetYesEmmaStoneNo
Olivier Hatta
Samuel Kosch
Nermal Cat Pictures
Total Drama Rules Est. 2001
SolrayGram Filmed Entertainment
CodeLyokoFan2002
SkylerHawkinsYesZakiNo
Tyne Tees Color Band
Oshy
Waleska Rosado
Like Gardner (a.k.a Luke2505 Enterprises)
Random és Értelmetlen
Jack Deland
The PrevueCom-General Cinema System, Inc.
Miles Prower Entertainment (designer of the main logo)
Luke Sams
Will M
Whitespy93 Revived
DokiFan2017 The Best
Liam McDougall
ardiapizarro
CoolGamer101
NourGodly1592
GoldenBermudez2003
Logoworld Productions
Nicklas Zande AMCW TDP est. 2001
Sailor Moon Rie Twilight Sunset Fan Pictures
Mamon Fighter 761
Karlo Nolasco
M.O.A Productions (July - September 2016 as a POE Company)
StarTV Studios,inc.
NYIFAN media POE
Brogolo LogoBro
Shadow66 Enterprises
Ad blocker interference detected!
Wikia is a free-to-use site that makes money from advertising. We have a modified experience for viewers using ad blockers

Wikia is not accessible if you've made further modifications. Remove the custom ad blocker rule(s) and the page will load as expected.